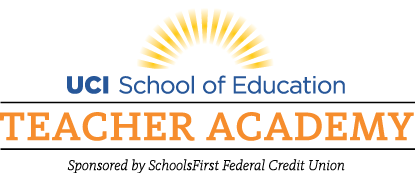 Bringing educators together to
collaborate, inspire, and lead.
With the generous support of SchoolsFirst Federal Credit Union, the UCI Teacher Academy provides a home for teachers and school leaders to develop and enhance their professional practice by offering programs in teacher preparation, professional development, teacher leadership, and administrator leadership. These professional development programs are offered through five California Subject Matter Partnerships – the UCI California Reading & Literature Project; UCI History Project; UCI Writing Project; Irvine Math Project; and the UCI Science Project.